The mission of the Downsville Community Museum is to record, preserve and promote the history of our community and to provide educational programs and opportunities.
On January 27, 2015 The Township of Dunn purchased the Empire in Pine building, also known as the Oddfellows Hall, from Dunn County.
The Town Board formed a committee to open the building. The building was inspected and is in good shape. Before Downsville Days 2015 the committee, along with some generous volunteers, cleaned the building, painted the downstairs and refinished the floor.
In the Fall of 2015 a new sidewalk was poured along the east-side of the building and we now have a Free Library installed along the East side of the museum.
By Christmas 2015 all new windows were installed upstairs.
In 2016 the upstairs was painted and the Downsville Community Museum is open from Memorial Day to Labor Day each year and also opened for special occasions.
This building is owned by the people in The Township of Dunn, Dunn County, Wisconsin. The committee is open to your suggestions.
Meeting Agenda – Click link below Agenda for October 9, 2023 Meeting
Agenda for October 9, 2023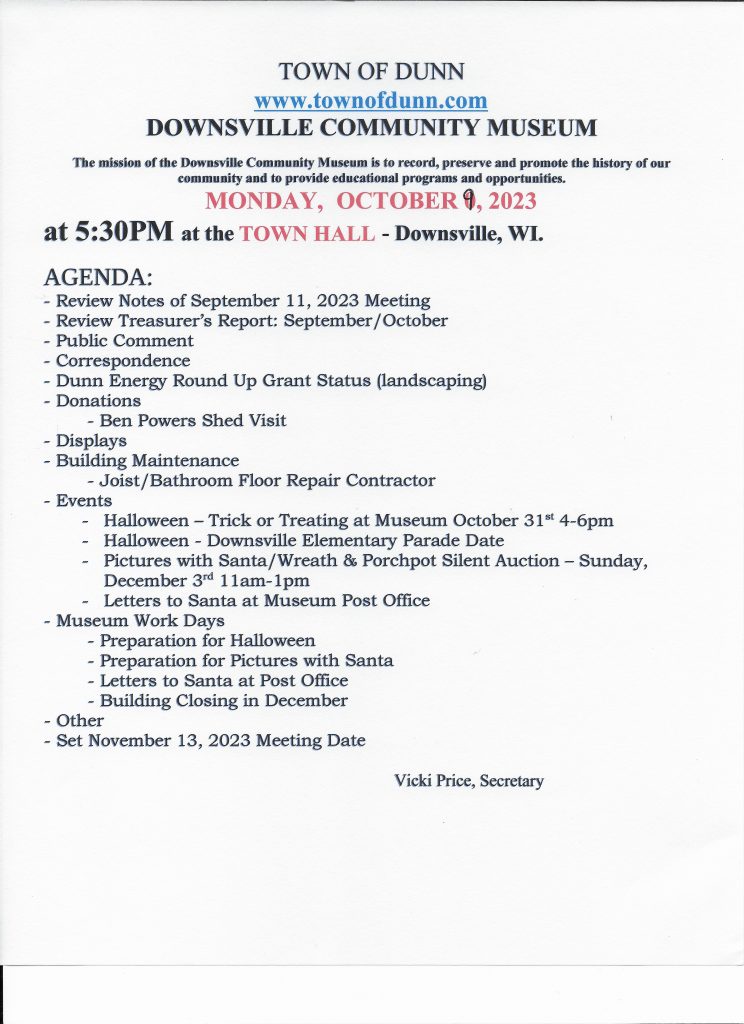 Feel free to e-mail us: museum@downsvillecommunitymuseum.com
Downsville Community Museum
E4541 County Road C
Downsville, Wisconsin 54735
Suzanne Messa: 715-664-8374
Vicki Price: 715-664-8499
Lynnette Smith: 715-664-8783
Forrest Johnson: 715-664-8688
Arlene Cartwright: 715-664-8564
Jane DeFlorin: 715-664-8969
Jeanette Daines: 715-235-7442
John Stalter: 612-812-1432